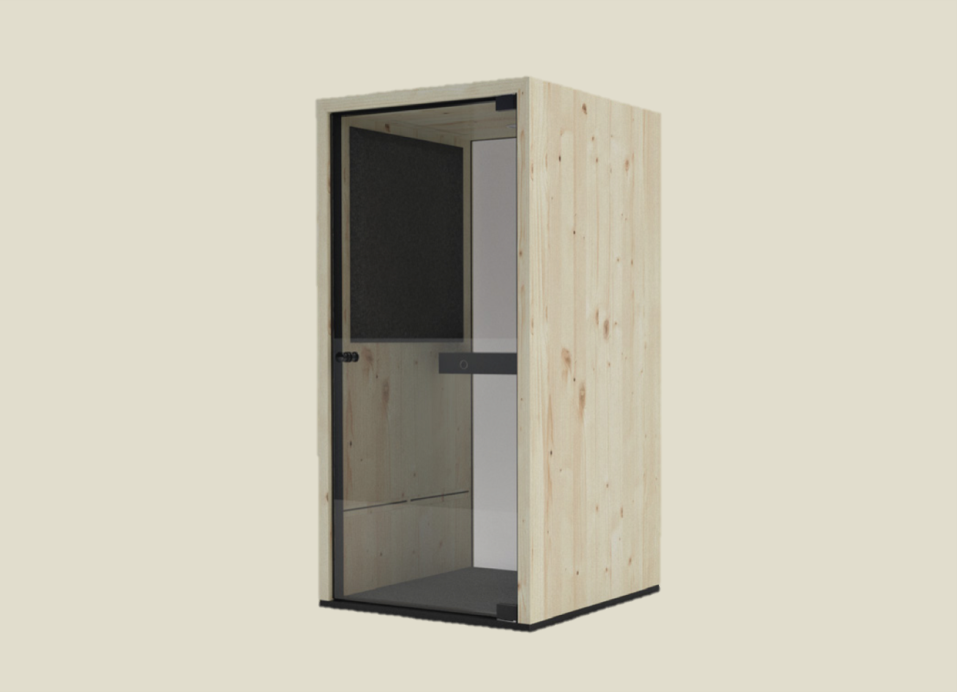 Office Phone Booths
Office Phone Booths are the modern, ultra-enhanced version of the typical public phone booth you can find on any street, but it has been adapted for use in a professional setting, most commonly an office. In simple terms, Office Phone Booths are a kind of office pod, ideal for single occupancy, where users can pop in and make phone or video calls in a private and quiet environment. These booths allow your team to make private calls, and the larger designs can double as an open meeting room.
Showing all 15 results

Office Phone Booths
The benefits of office pods with phones
Office phone booths are an investment – but they're absolutely worth it. Not only can you create a better environment for your employees, but you'll also boost productivity within your office.
Here are the main benefits of office phone booths.
Remove any privacy issues
Open office spaces are great for collaboration and inclusivity but are not ideal for privacy. Constant noise is distracting, but what if people want to have phone or video conferences?
Office Phone Booths are the perfect solution to the lack of private and quiet spaces, as they allow people to make calls and work in peace within open-plan offices.
Sound absorbing
Office Phone Booths are fully enclosed; most are constructed with sound-absorbing materials. When you or your employees make calls, they can do so without disruption.
However, the conversations inside will not distract colleagues working in the office either. The booth can double as a focus or a smaller meeting room for these reasons.
Equipment friendly
On top of acoustic properties, Office Phone Booths come fitted with a great range of equipment, such as integrated furniture in the shape of working table tops big enough to fit in a notepad, tablet, or laptop, and/or comfortable chairs or stools.
They also typically include ventilation and light systems and data and power connections, so users can sit and make calls or work in a fresh and comfortable space.
Flexibility
Office Phone Booths come flat packed so that they can fit into most spaces, and once assembled, they have a small footprint, so they are the ideal solution for offices where space is limited and not much needs to be altered to make room for them.
Also, our booths and meeting pods are fully customizable and will fit seamlessly into your office. You can change the colors to suit your décor and make a statement for the workplace.
Choose from a range of stylish office phone booths
Adding a Phone Booth to your office can genuinely transform your staff's work life and overall performance. These pods are great value for money and serve as much more than a place to make phone calls.
Our selection of pods means you're sure to find one that suits your needs. Here are some of our most popular phone booths.
Zenbooth
You're probably familiar with the infamous Zenbooth Duo, which is ideal as a small meeting room – but the Zenbooth Solo is a compact solution for employees who need a flexible space to make important calls.
Hush Pods
The Hush Phone Booth is ideal for companies that conduct regular video conferences. One person can easily fit into the space, and its comfortable furnishings make the suite suitable for long conference calls.
Or, if you're looking for a little more space, the Hush Twin Pod is another excellent option. It's ideal for a workspace and will serve as one of the smaller conference rooms.
Nook Solo Pod
You'll love the Nook Solo Pod if you're a modern business that values quirky designs. It always makes an impression and has an array of customization options, including neutral tones and bright colors.
Choose the perfect phone booth today
With our full suite of pods, you can promote a more private environment where office work is easy. Choosing the right phone booth means your employees can have private conversations while the rest benefit from focused work – without distractions.
We offer convenient delivery, a range of customization options, and a better way for your team to work. Please feel free to contact us with any questions. Our friendly team is always happy to help.