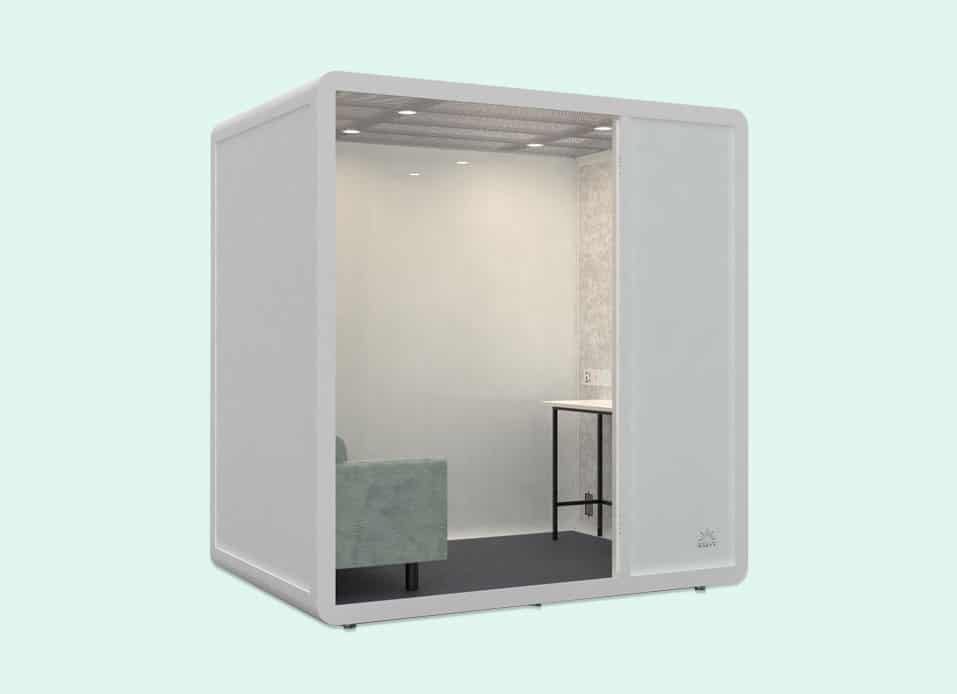 Lactation Pods
For nursing mothers on the go, finding a private and comfortable space to breastfeed can be challenging. That's where a lactation pod comes in! These tranquil environments offer a relaxed atmosphere, allowing breastfeeding moms to comfortably nurse their baby without distractions or interruptions.
Designed to provide privacy and comfort, lactation spaces have become increasingly popular in public spaces such as airports, offices, and shopping centers. Now, moms can breastfeed their babies in peace without having to worry about finding a suitable place to do so.
Showing all 4 results
Lactation Pod
What is a Lactation Pod?
Approved lactation spaces are sometime called pumping pod, moms pod and breastfeeding pod. The rooms, and pods will have a place to sit comfortably, often a table to organise belongs and put things as well as other accessories like a coat hook, storage cupboard and fridge.
The Benefits of Breastfeeding Rooms
In today's fast-paced work environment, providing a lactation pod in the workplace can be a game-changer for working moms. These private spaces help create a more comfortable and discreet environment for women to express milk and feed their babies. The benefits extend beyond just a safe space – moms who have access to breastfeeding pods are more likely to return to work, improving productivity and employee retention rates.
Not to mention, the pods also contribute to the wellbeing of moms and their babies. With the convenience of popping into a breastfeeding pod in the workplace, working moms can continue to provide nourishment for their little ones without sacrificing productivity or compromising their comfort.
Advanced Technology
Recently, technology has been incorporated into these pods to make them even more comfortable and convenient. For example, wall-mounted reading lights provide ample lighting for the users who want to read or use their mobile devices while nursing.
USB and power outlets are available for charging devices and staying connected. Motion sensor technology detects when someone is inside, turning on ventilation and air circulation to provide a comfortable environment for the mother and child. Lactation pods have come a long way, and technology has made them a true oasis for mothers.
Lactation Room and Pod Advanced Amenities
New mothers need support in their breastfeeding journey, and one way to provide that support is through lactation rooms equipped with a variety of amenities. Among the many features that can be included in constructing these pods are:
Comfort shelf where women can place their belongings
Full-length mirror, which can help with positioning and allow moms to feel more comfortable and confident as they are nursing
Magnetic whiteboard, which can be used for note-taking or to display helpful information
Acoustic panels can also be included to help create a calming environment, and different acoustic levels can ensure that women can nurse without distraction or discomfort
Lockable door for security and peace of mind
Hygienic surfaces and seats that can be kept clean
Storage for lactation room and pod supplies
Adequate space for belongings and babies equipment
All of these amenities are essential when it comes to providing new mothers with the resources they need to feel comfortable, relaxed, and supported as they navigate breastfeeding.
Disclaimer
Information regarding breastfeeding pods is for reference only and further information can be accessed from current Nursing Mothers Act or Building Management Teams to ensure proper conformance.
On December 29, 2022, President Biden signed the Fiscal Year 2023 Omnibus Spending Bill into law.
The bill includes the PUMP for Nursing Mothers Act, which extends to more employees who are nursing mothers the right to receive break time for pumping and a private place to pump at work and makes other adjustments.
References:
https://www.usbreastfeeding.org/workplace-law-guide.html
https://uscode.house.gov/view.xhtml?req=breastfeeding&f=treesort&fq=true&num=4&hl=true&edition=prelim&granuleId=USC-prelim-title29-section218d