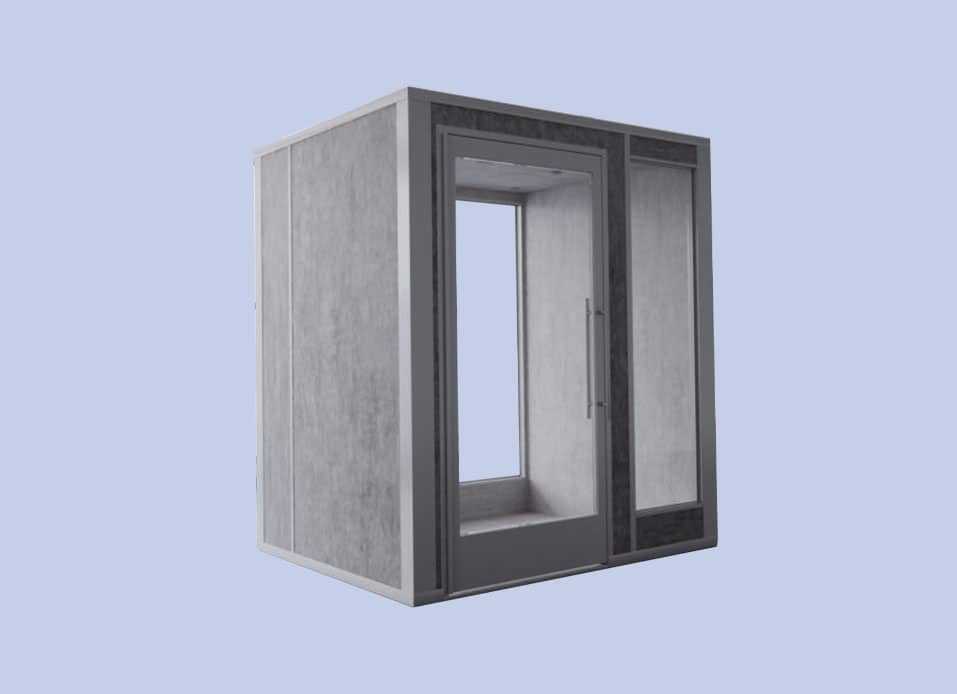 ADA Pods
An ADA Office Pod is designed to fit almost any environment and various office styles. Our designs are innovative and maximise internal space without taking up too much external space, design and ergonomics are absolutely key in our work pod design. We focus on high-quality design and we manufacture using high-quality materials – our work pods & meeting pods fit in with furniture and can be positioned almost anywhere within an office space.
Along with our standard range of pods we also have specific ADA compliant pod and ADA accessible models. Examples of an ADA compliant pod adhere to the required standards for access and use as set out by the Americans with Disabilities Act of 1990. These meeting booths/pods easily accessible to everyone in the office, including people with mobility limitations and motor disabilities. An ADA Office Pod or Booth has a universal design that fits seamlessly into any office work space.
Showing all 10 results
ADA Compliant Office Pods
ADA Compliance
Besides offering a private space and the usual features like acoustics, ventilation and lighting, an ADA compliant office pod is designed to accommodate the needs of all people, including those with mobility impairments. An ADA compliant office or meeting pod offers a comfortable and secluded office space for all employees during meetings and video conferences. The universal design blend seamlessly into any space inside an office and these accessible office pod and booths provide ADA features such a wide door clearance, low threshold for easy entry and easy to use handles. No matter the office style or space, the universal design of a typical ADA office pod or booth accommodates all, are easily accessible, and allow for private conversations.
ADA Accessibility
ADA accessible office pods are equipped with features and modifications that cater to the diverse needs of employees with disabilities, ensuring that they can navigate and utilize the workspace independently and comfortably. This may include features such as wider doorways, ramps or lifts for wheelchair accessibility, adjustable workstations, and braille signage for individuals with visual impairments. ADA accessible products may have some of the features seen in complaint products but wont adhere to all the requirements laid out by the ADA act to become ADA compliant.
Universal Design
Universal design, designing for accessibility and inclusive design are currently in the spotlight meaning that spaces are being created that are accessible to everyone. Regardless of age, size, ability, and disability, universal design is ensuring the perfect place where everyone can effortlessly navigate their surroundings hold meetings private.
Features of ADA Compliance
Since its inception in 1990, the Americans with Disabilities Act (ADA) has paved the way for improved accessibility. This includes creating door requirements that cater to the needs of disabled and non-disabled people, guaranteeing easy access for everyone. By outlining specific guidelines for door width, clearance, and handles, the ADA ensures that no one is left behind.
Wide Door Clearance
To allow entrance of people using crutches and wheelchairs, the door width standard on an ADA office pod is a minimum of 32 inches when the door is open to 90 degrees. Most ADA pods available in our range have a 36 inch width doorway, allowing ample space for comfortable entry for wheelchair users or other mobility aids. With wide door clearance and a low threshold, manoeuvrability is a breeze.
Full ADA compliance means the area within the office pod provides adequate interior space for wheelchair manoeuvrability.
The Zonez ADA Pod and the Residence Connect ADA Pod are perfect choices for ADA compliant models for private spaces to meet and work for video conference calls and focused tasks. The majority of the Zonez range (besides the Phone Booths) are ADA compliant with the Zonez Collaboration Suite Pod, Zen Booth Quad Pod providing extra space where larger more spacious accessible meeting pods are needed. Also in this range of larger ADA compliant pods is the Silent Room Pod Large.
The swedish design elements of the Barn Work Booth and the BuildUp Large Meeting Booth give a calm, natural feel to these accessible booths. Along with ADA compliance we have a range of Lactation models that also meet the ADA standard with the Zonez Mothers Pod ensuring the well-being of new mothers as they return to work.
Low Threshold
A lower threshold facilitates movement for people who use wheelchairs or other mobility equipment. Door thresholds that are ADA-compliant need the vertical height at no more than ¼". For a little flexibility, a transition ramp can be added to allow for a vertical height of up to ¾". All examples of an ADA Office Pod sim to comply with the standards set out by the American Department of Justice.
Easy To Use Door Handles
For door handles to comply with ADA standards, the handle should be between 34 and 48 inches from the floor surface, not the bottom of the door. The easy-to-use handles on each ADA Office Pod ensures ease of access for everyone. Users do not have to strain, twist or be positioned at awkward angles to open the pod doors, the easy-to-grab handle ensures effortless access. Designed specifically for those with mobility impairments, access to the pods has never been easier.
Why consider ADA compliance for your office space?
Incorporating ADA-compliant office furniture is crucial to creating an inclusive work environment. By adhering to ADA requirements and considering the needs of employees with disabilities, businesses can foster an atmosphere of equality and accessibility. Remember, compliance with ADA policies not only benefits individuals with disabilities but also enhances productivity and well-being for all employees. Let's strive to create workspaces that are truly inclusive and welcoming to everyone.
Disclaimer
Information regarding ADA compliant office pods is for reference only and further information can be accessed from current disability acts and/or speak to Building Management Teams to ensure proper conformance.
Reference List:
https://www.ada.gov/law-and-regs/design-standards/2010-stds/