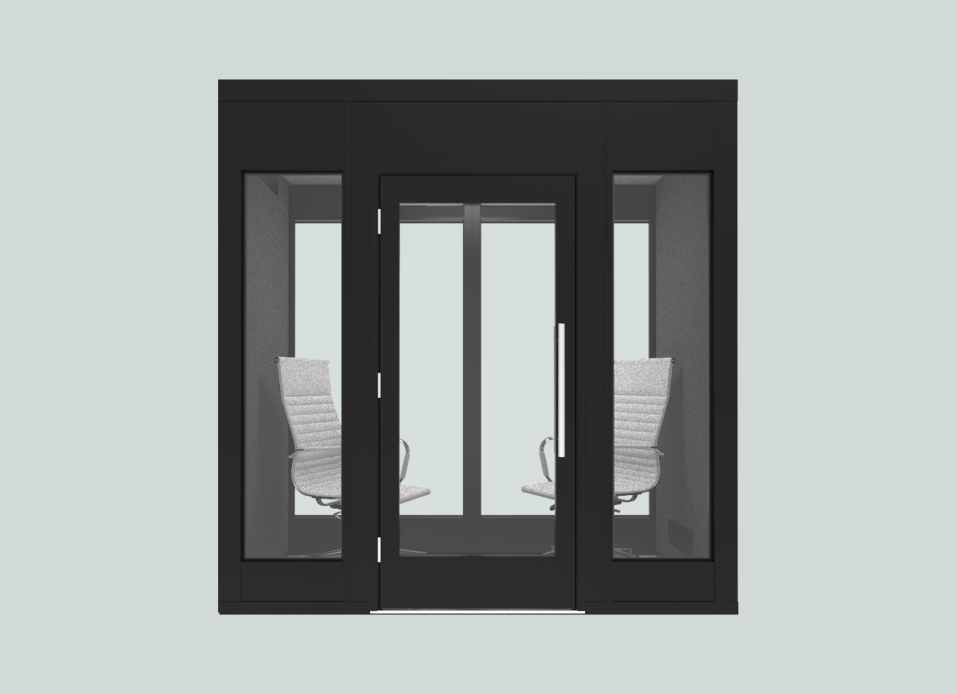 Meeting Pods
Meeting Pods are a category of office pods that are specially designed to fit at least two people, so that they are ideal for team meetings.Meeting Pods can easily be described as a room within a room, a fully enclosed unit that, as per the name suggests, is primarily used for meetings. They are available in a variety of sizes, from small two person pods, to large pods that can fit over ten people, ideal for large board meetings or all staff training days. These pods are fully enclosed, with four walls, a door, a roof, and often a carpeted floor. The full enclosure of meeting pods not only provides full privacy but it also heightens the acoustic property of the pods, as there are no open areas from where noise can escape or enter the pod. This much improved acoustic performance of meeting pods is also achieved thanks to the use of sound absorbing materials in the shape of fully upholstered walls, ceiling and carpeted floors, as well as doors sealed with acoustic foil.
Showing all 13 results
Thanks to all these properties, meeting pods provide quiet and private spaces where users can have confidential meetings, or can simply serve as a space for rest and relaxation, away from the noise and distractions of the open plan office. People working or having meetings inside meeting pods will perform better and produce better results, as their concentration will not be constantly interrupted by the noises of colleagues talking, making phone and video calls, printing or simply passing by. 
Meeting Pods are highly flexible units, not only are they available in a variety of sizes to fit any purpose and/or space needed, but they also come in all kinds of shapes, colors and finishes. They also come flat packed and can be dismantled, moved and reassembled as and when needed, so that they offer a long-term product that will move along with the changing needs of your office and your staff. This kind of office pods also come fitted with different levels of equipment, from lights, ventilation systems, power and data connections, to fully integrated furniture such as tables, and chairs/sofas. Meeting Pods have absolutely everything you would expect to find in a professional, fully functional built-in office, but with the flexibility and value for money that only an office pod can provide.