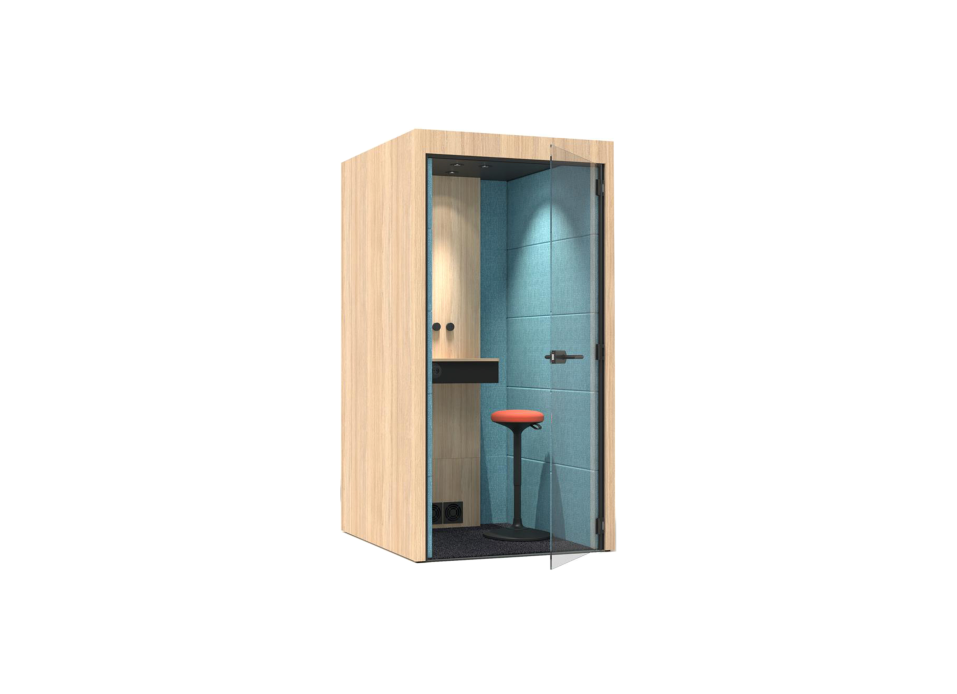 1 person pods
With more people working from home and the open plan office being the norm for most businesses, people are seeking quieter ways to work. The office pod is no longer seen as a luxury or quirky addition for businesses, but as a necessity. There are so many pods available, but our individual office pods are ideal for forward-thinking businesses and remote workers. With excellent sound-absorbing properties and a modern look, they'll seamlessly integrate within your office space.
Showing 1–16 of 31 results
Single Space Office Pods
The benefits of a single-space office pod
You've probably heard of meeting pods and office phone booths, but individual office pods differ.
While a pod meeting room can often hold up to six people or even more, and an office phone booth facilitates private conversations, a one-person pod is a dedicated workspace or a focus room.
Our pods offer numerous benefits. Here are just some of them.
Noise reduction
Our soundproof pods are perfect if you prefer a quiet working environment. These pods always deliver, whether it's the hustle and bustle of the workplace or creating a private space when you're working from home.
We all know that the kids running around at home, or busy open-plan offices aren't great for concentration, but our pods block out any unwanted noise allowing you to focus.
Enhanced productivity
Our pods promote focused work, allowing you to eliminate outside distractions.
Businesses can meet their targets, and self-employed individuals can create a better workplace environment in their own homes or rented space.
Less stress
The always-on culture can often overwhelm people, resulting in stress related conditions; it's clear businesses have a problem. But a quiet workspace can make a significant difference.
People can escape to their pod when they need to focus and destress, which can help companies prevent absences and offer a better experience for people.
Our single-person pods are designed for longevity
We have a range of pods available in different styles and finishes. From work pods to phone booths, you can maximize your productivity while also creating a private space to focus in.
Lohko Picea Work Pod
While most pods are relatively small, some come in various sizes and offer more space. The Lohko Picea Work Pod is perfect if you want extra space, as it can fit up to two people but offers one person plenty of legroom.
If you use a lot of equipment or just want a pod that lets you conduct remote meetings, the Lohko range won't let you down.
Kolo Pods
Kolo is one of the most popular pod providers, so you can rest assured that you're investing in quality construction with excellent soundproofing capabilities. The work pod is ideal if you're looking for a flexible solution, as it has built-in wheels for portability.
You can also opt for a phone booth which allows you to make phone calls and have private conversations.
Hush Phone Booth office phone booth
Large meeting booths aren't always practical – especially if you work alone or most of your meetings are remote. Hush Phone Booth offers a welcome solution with its compact booth, which fits seamlessly into any office.
Nook Solo Pod
We love the Nook Solo pod because it never fails to make an immediate impression. If you're looking for a single-person office space that's the epitome of modern design, this is the right pod.
Both affordable and convenient, you can choose between various colors and take advantage of the LED lights, which are controllable by a remote.
Why shop with My Office Pod?
At My Office Pod, we believe everyone has the right to enjoy the convenience and flexibility of pods without spending a fortune. When you shop with us, you get to discover the newest pods at fantastic prices.
We simplify things by choosing the best pods
Our team knows how challenging it is to find affordable pods that don't compromise on quality. We make sure you save money by choosing the best pods around. Our pods prioritize safety and are suitable for any budget.
Customize your pod
Our pods are also fully customizable and come in various colors to fit into office spaces. They also have extra features such as USB outlets, remote control lighting, and sound-absorbing properties.
Easy installation
Installing our pods doesn't have to be a headache, either. Many models are easy to transport and fit seamlessly into your space. You can also opt for a pod with built-in wheels, which maximizes convenience.
Choose your single-space office pod today
With our flexible pod systems, you can take advantage of the most convenient way to work. Please browse through our single-person pods, and don't forget to look at our other solutions.
From large focus rooms to the open meeting room pod and closed meeting pods, you'll be able to equip your office or home and enjoy the flexibility our products offer.
If you'd like help choosing your pod or have questions, our friendly customer service team is always available.