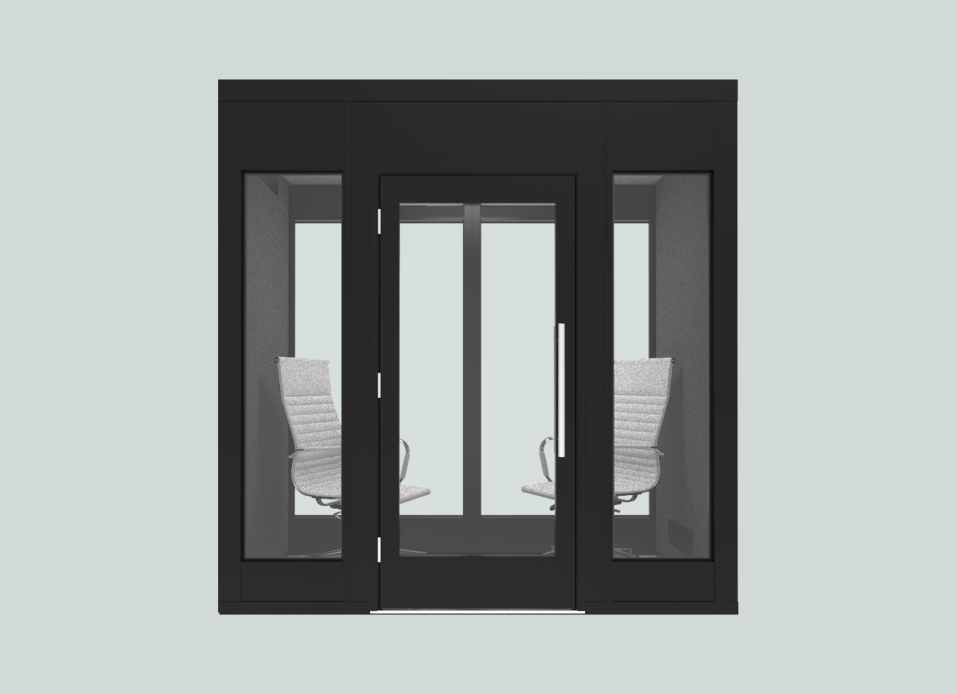 Meeting Pods
Reduce noise and improve focus with high-quality meeting pods
The office should be a place of collaboration and communication, with all team members working towards a similar goal. Unfortunately, the general hustle and bustle of the average open-plan office can cause problems when it comes to meetings.
Enter our pods, the cost-effective and stylish solution to providing your team with a quiet space to work and collaborate. With a range of available styles, you can give your employees a safe place to escape the constant noise that often comes with an open office environment.
Showing 17–18 of 18 results

Office Meeting Pods
What are office meeting pods, and why are they beneficial?
Meeting Pods are a category of office pods specially designed to fit at least two people, so they are ideal for team meetings. These Pods can easily be described as an open meeting room within a room; a fully enclosed unit that, as the name suggests, is primarily used for meetings.
They are available in various sizes, from small two-person pods to large pods that can fit over ten people, ideal for large board meetings or all-staff training days. What defines a meeting pod is it's fully enclosed with four walls, a door, a roof, and often a carpeted floor. Open offices are ideal for businesses because the layout ensures all team members can work together – but they're not so great when it comes to conducting meetings.
A meeting room can make creating a dynamic space for your employees easier without losing the open-plan environment.
The benefits of a meeting pod
With so many fantastic pods available, you'll have no problems choosing which is best for your team. Our pods come in all shapes and sizes, but the best thing about them is the fact that they're cost-effective solutions for using a construction team for a new meeting room.
Here are some of the benefits you can take advantage of.
Privacy
Meeting pod designs also use sound-absorbing materials in the shape of fully upholstered walls, ceilings, and carpeted floors, as well as doors sealed with acoustic foil. Not only does this offer privacy, but it also heightens the acoustic property of the pods, as there are no open areas from where noise can escape or enter the pod.
Thanks to all these properties, meeting pods are ideal for quiet private conversations, where users can have confidential meetings or simply serve as a space for rest and relaxation, away from the noise and distractions of the open-plan office.
Effective collaboration
People working or having meetings inside meeting pods will perform better and produce better results. Their concentration will not be constantly interrupted by the noises of colleagues talking, making phone and video calls, printing, or simply passing by. These pods are ideal as a focus room because they allow team members to work better, share ideas and develop practical solutions for your business to grow.
Flexibility
Meeting Pods are highly flexible units; not only are they available in a variety of sizes to fit any purpose and/or space needed, but they also come in all kinds of shapes, colors, and finishes. Companies don't need to change their space to fit the design, as our booth options are highly adaptable.
Convenience
They also come flat packed and can be dismantled, moved, and reassembled as and when needed so that they offer a long-term product that will move along with the changing needs of your office and your staff. Our office pods also come fitted with different levels of equipment, from lights, ventilation systems, power, and data connections, to fully integrated furniture such as tables and chairs/sofas.
Meeting Pods have absolutely everything you would expect to find in a professional, fully functional built-in office, but with the flexibility and value for money that only an office pod can provide.
If you're a fan of the Zenbooth solo design, you'll love their stunning meeting rooms. We offer the Zenbooth Duo, which is ideal for small meetings, private calls, and office work. With the ability to fit two people, you can run performance reviews without taking up too much space. Or, opt for the impressive Zenbooth Quad, which features a similar design to the Duo but will easily fit four people.
Another popular option is to install the full suite of Hush Meet Pods. These booths are perfect for the contemporary office and make great private spaces for focused work. You can take advantage of affordable prices in a wide range of sizes. Better still, you can tailor the pods to fit in with the rest of the workplace and enjoy a stress-free installation.
Sitting in a meeting never felt so good with these stunning pods. They ooze modern design and can easily fit a TV screen and other equipment such as an office phone for your meetings. Ideal for working on projects or as a quiet space, you can choose a range of customization options with each design.
Future-proof your business today with a meeting pod
Shopping with us means you take advantage of a wide selection of pods that allow your employees to get some much-needed privacy. We offer great prices, speedy delivery, and a range of customization options.
Please feel free to contact us if you'd like advice on whether a pod will be suitable for its intended location within your office or have any questions about the customization options. We're always around to help. Shop today and enjoy giving your team the focus, privacy, and collaboration they need to be successful.