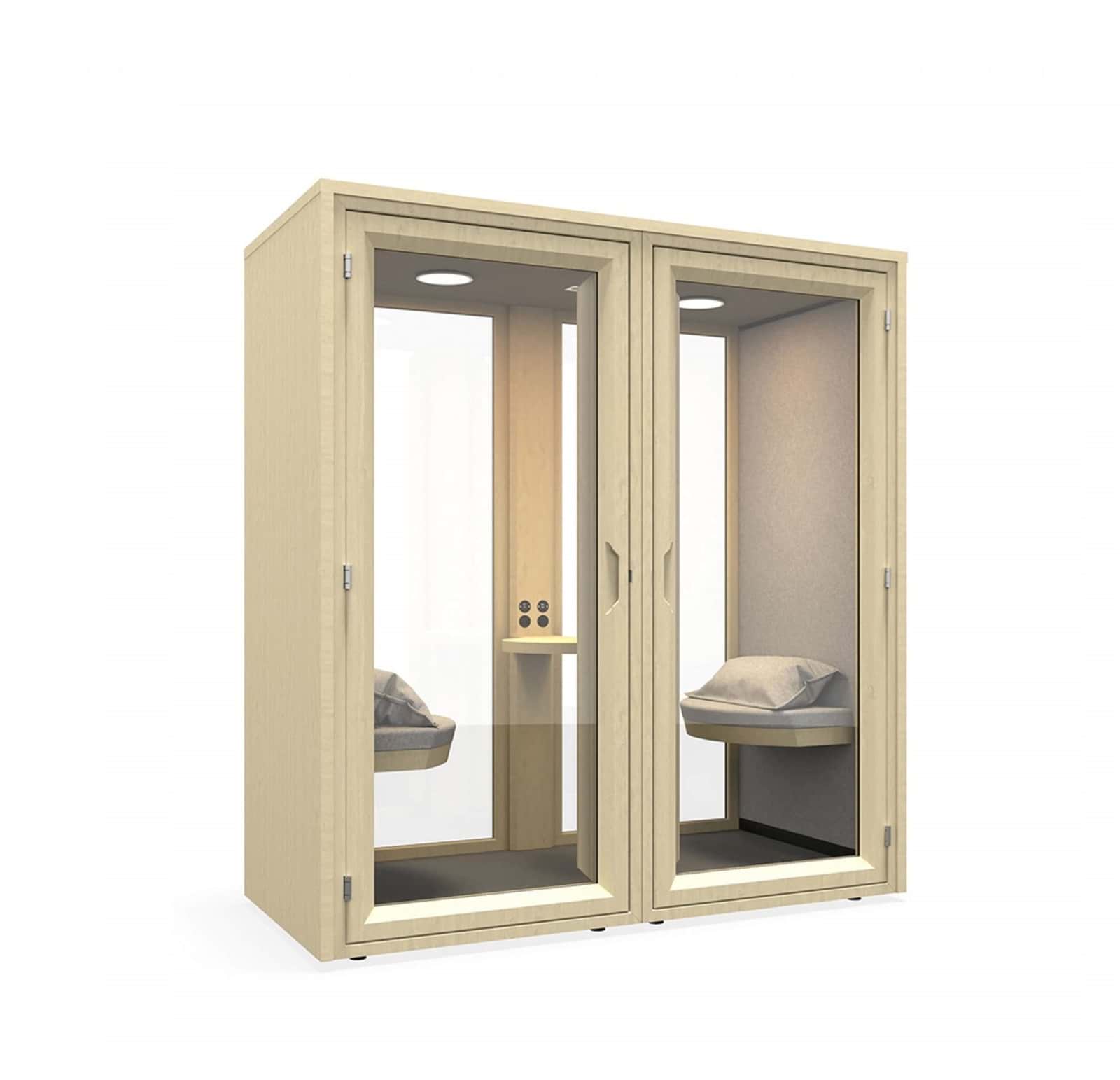 Acoustic Pods
Fully functional pods that transform your office into a productive environment 
The office is a central part of a business's daily operations, and its setup will define employees' productivity. There is no doubt that most modern-day corporations have a long-established preference for open-plan offices.
These offices allow better collaboration between team members and create open communication. However, many employees become distracted in an open-plan office because there's less privacy, meaning concentrating can be difficult.
Our office pods offer acoustic comfort and ensure your employees can focus on their work without you having to redesign your office.
Showing 1–16 of 42 results
What are acoustic office pods?

Acoustic office pods use sound-absorbing materials in their construction. They come in various shapes, sizes, and finishes to fit different purposes.
There are phone booths and work pods designed for individual use, all of which are ideal for phone and Zoom calls, as well as standard office work. You'll also find meeting pods designed for team meetings, where the contents of the meeting can remain private.
Sound-absorbing materials come in the shape of upholstered acoustic panels, glass, foams, and other components that, when applied to the walls, ceiling, roof, and door of any unit, will make Acoustic Pods better than standard office pods and even better than many built-in offices.
Though the acoustic performance of these pods varies from one pod to the other, all acoustic office pods have been designed to provide fully enclosed spaces where workers can find respite from the hustle and bustle from their open-plan offices.
The benefits of acoustic pods
Every business knows its success lies in the strength of its team. How employees work is central to what the company can achieve, but the wrong environment could damage productivity and lower staff morale.
Our pods are designed to add extra functionality to your office space, providing an effective solution for a dynamic and collaborative working space.
Here are just some of the benefits acoustic offices offer:
Increased productivity
One of the benefits of acoustic office pods is that they can help to increase productivity. This is because pods provide a quiet and distraction-free environment, which can help employees focus on their work.
Noise pollution is a severe issue in offices, but having designated quiet spaces will increase productivity.
More concentration
Pods create a peaceful and distraction-free working environment, which will allow employees to focus on their work. They're especially beneficial when you consider the varying needs of your team members – as some will require a more peaceful environment than others.
People with ADHD and Autism find noise and bright lighting distracting, but being able to give them an office pod with sound-absorbing acoustics will enhance their concentration.
Enhanced creativity
As well as increasing productivity and concentration, acoustic pods can enhance creativity.
The reason for this is that using acoustic office pods can help create a more relaxed environment, which can encourage employees to think outside the box and be more creative in their work.
Improved communication
Open communication is central to any workplace, and being able to have dynamic conversations can lead to surprising business growth discoveries. When acoustic pods are used as meeting rooms, they create a more intimate environment for attendees.
If people can effectively communicate with one another, they'll be better able to hold brainstorming sessions and find solutions to problems without distractions.
Reduced stress levels
According to Shortlister, 55% of American people feel stress daily. An open office can also add to those stress levels, as people might have too many distractions to work effectively, or can't concentrate properly with all the noise.
When you install acoustic offices, your team members can have a stress-free working space that keeps them on task – without compromising the collaboration an open-concept office provides.
Choose from a wide range of fully equipped pods
We have a range of acoustic pods to choose between that function as offices, but are as stylish as furniture. Shopping with us gives you access to high-quality pods that deliver privacy and functionality at cost-effective prices.
Phone booths
These stylish designs won't let you down if you want a quiet space for your employees to make phone calls. They're compact and come with a 42 dB rating. You also have the option to customize the panels with colored cushions and can install the flat-packed pod in minutes.
Flexible working spaces
While team members need to remain connected, offering some privacy is beneficial, especially when your employees are working on a challenging project.
Our work pods come in various sizes, including single pods with desks or larger rooms.
Meeting pods
Meetings are essential for businesses to address issues and keep all members informed about changes. However, many managers have them with interested parties, and these conversations should be private.
You can choose different dimensions with our pods, from small one-on-one meeting rooms to large pods that accommodate larger groups.
Choose a pod today
With so many benefits, office pods are fast becoming an integral part of open-plan working spaces. With My Office Pod, you can choose expertly designed pods that combine all the necessary functionality without compromising style.
If you'd like to learn more about our office pods, please feel free to ask our team for support. We're happy to discuss which pods are best for you and answer any questions regarding delivery.